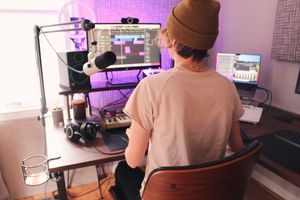 Testimonials
"Stephanie is easily one of the most talented and skilled artists that I have had the pleasure of working with. Her creativity, reliability, and adaptability remain unparalleled. Whenever a new opportunity arises, Stephanie is the first person I reach out to because she always delivers."          
"Steph has some of the best written pop/rock songs and melodies of anyone I've worked with. After every session we do, I find myself whistling, humming, and singing parts for days afterward. As someone who listens to several songs a day, hundreds of times, I think that says a lot."                                              
"Steph's work ethic and dedication to her craft is singular; in turn, she boldly worked towards a video that'd not only convey the look and narrative she had her heart set on, but also abide by the myriad health regulations necessary for a safe set in 2020.  
In addition to serving as co-producer on the video for "Envy", Steph overlooked the screenwriting, contributed towards solutions for casting, and even assisted with props and craft services. This is all a long way of saying: Steph's always willing to do what it takes to make art that matters. It's rare to find an artist as invested in her future as Steph. 
Steph is amazing! Truly a professional in all sense of the word. She gets the vision that you are trying to create and goes above and beyond to make it happen. Steph was able to take my project to the next level and help guide and teach throughout the process. I highly recommend her services. She is timely, creative, constructive and all around enjoyable to be around and work with. Look no further- she is it!
-Haley Marr, artist